2020 Autumn Semester Flying Robot Project Team D Article 3.5
November 08, 2020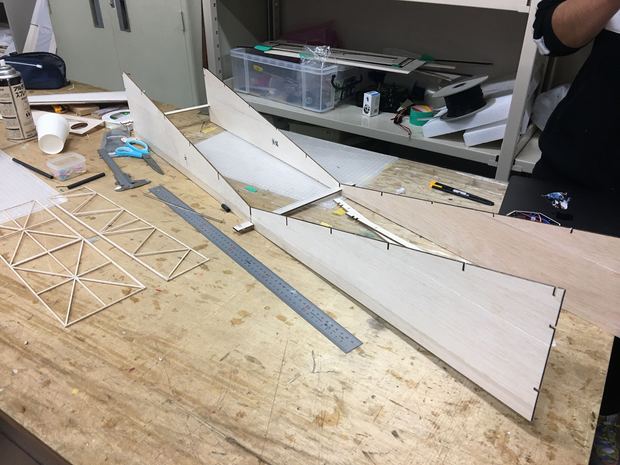 Before we set about making airplane body, we were first instructed in how to use a laser-beam printer to cut the boards. The teaching assistants kindly introduced us Autodesk DWG TrueView 2018 and CorelDRAW 12, the softwares to edit and transmit data to the printer. He advised me to move it with a laser beam off before actually printing out to conform if it works as we intended to. He also instructed us in how to use the 3D printer.
We connected an electrical circuit which makes a motor powered and checked if a transmitter worked properly. We were careful that we didn't join the wiring in the opposite direction because the battery will go wrong if we do so.
Then, we assembled a tail wing from 2mm*2mm balsa. We firstly printed a paper pattern from CAD data. According to it, we cut balsa with a snap blade cutter and put them together with instant glue. At the same time, we built a jig to hold the ribs of an airfoil from plywood in place.
"飛行機の胴体作りに取り掛かる前に、まずレーザービームプリンターを使って木板を切る方法を教わりました。ティーチングアシスタントの方から、Autodesk DWG TrueView 2018とCorelDRAW 12という、データを編集し、プリンターに転送するソフトを紹介していただきました。実際にプリントアウトして適合させる前にレーザービームを外して動かし、意図した通りに動くかどうかを確認することをアドバイスしてくれました。また、3Dプリンターの使い方も指導してくれました。
モーターに電源を供給する電気回路を接続し、送信機が正常に動作するかどうかを確認しました。配線を逆方向に繋ぐとバッテリーがおかしくなるので注意しました。
続いて、2mm*2mmのバルサから水平尾翼を組み立てました。まずはCADデータから型紙を印刷しました。それにしたがって、バルサをカッターでカットし、瞬間接着剤で組み立てました。同時に、ベニヤ板から翼のリブを固定するための治具を作りました。"
|