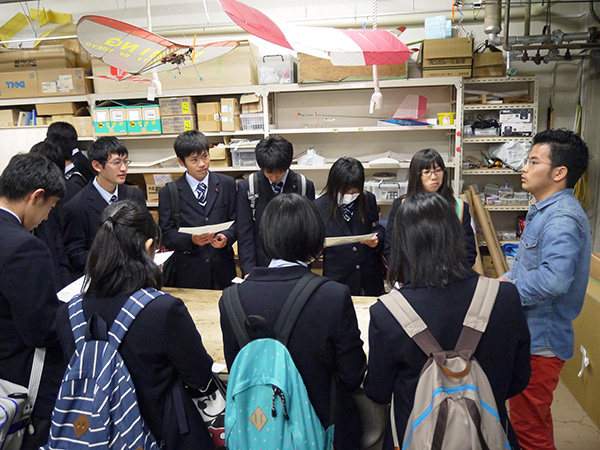 The student visit is focused on laboratories and research teams in the Graduate School of Engineering at the University of Tokyo. We ask the participating students to fill out questionnaires which help us monitor students' interest in engineering in the long term.
High school student perspective
High school students can get acquainted with the research conducted at the university by visiting research groups and experimental facilities there. Furthermore, such visits can spark students' interest in cutting-edge research, too. Besides, students can see for themselves how interesting it is to define and solve your own problems, a characteristic of research which differentiates it from high school classes.
University student perspective
University students can get an objective view and reconfirm the goal of their research by introducing it and their laboratory (research team) to high school students. Besides, they can work on their communications skills which are necessary in order to give a clear and easy-to-understand explanation about their own research to the high school students.
高校生による大学見学では、主に東京大学大学院工学系研究科で行われている研究や研究室などの紹介を行います。参加して頂いた高校生の皆様には、工学への興味関心の変化を調査するためのアンケートへの長期的なご協力をお願いしています。
高校生にとっては
大学の研究室や実験設備などを見学することで、大学での研究を具体的にイメージすることができるようになます。さらに最先端の研究に触れることが工学に興味関心を持つきっかけになります。高校までの勉強とは違い、自分自身で課題を見つけ解決するという研究の面白さに触れることができます。
大学院生や学部生にとっては
研究や研究室を紹介することで、自分自身の研究を客観的に見直し、その意義を再認識することになります。高校生に分かりやすく説明する中で、コミュニケーション能力を向上させることができます。