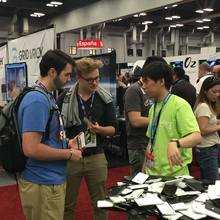 "phonvert" : converting retired smartphones for other purposes
Project phonvert is an open project that is trying to find new ways to "phonvert" retired smartphones to smartify our lives.
Our mission is to spread the word "phonvert" to steer everyone to reuse their retired smartphones.
We exhibited our concept at SXSW as a project selected by Todai To Texas.
Project phonvert got a lot of feedback from visitors, and were covered by many media.
Now we are trying to find a new way for how smartphones can be reused with collaborators all over the world.
Keisuke Shiro
read more