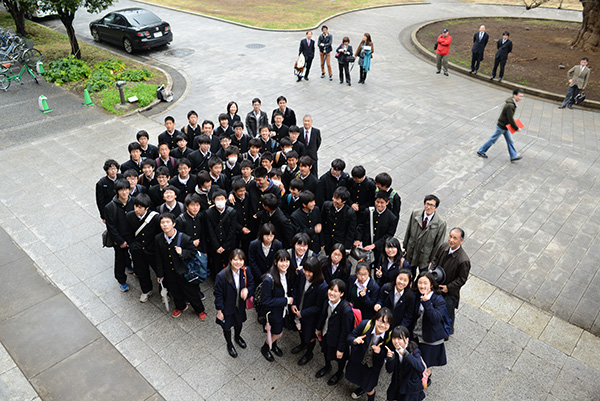 In high school-university collaborative lectures, university students (mainly from the engineering field) give a presentation on topics from their own major at a partner high school.
High school student perspective
By participating in a lecture on engineering topics, high school students can learn about research conducted at universities, an experience they cannot gain from their usual classes. Furthermore, the students can see how things taught at the science classes in high school connect to university research and how research is applied and used in society. Such experience can trigger their interest in engineering and help them consider pursuing a degree in this field later.
University student perspective
Giving an explanation about their own research not only helps the university students organize their knowledge, but also urges them to reconsider the meaning and purpose of their research. Besides, as the lecture is given to high school students, it has to be easy-to-understand so planning the presentation itself develops communication skills and requires working on a team.
高大連携講講座では、主に工学系研究科の学生が、自身の専門分野についての講座を提携する高校に対して開催します。
高校生にとっては
日ごろ触れることのない工学の専門的な講座に参加することで、大学で行われる研究を具体的に知ることができます。また、高校で学ぶ理科が大学の研究とどのようにつながっているのか、さらにどのように社会で応用され利用されているのかを実感することで、高校の時点から工学に関心を持つきっかけとなり、工学系への進学を具体的に検討しやすくなります。
大学院生や学部生にとっては
自分たちの研究について説明することで、自らの科学的知識を整理して体系化することができるだけでなく、研究の意義を再認識することになります。また講座の内容を学生同士でデザインしたり、高校生に分かりやすく説明する中で、コミュニケーション能力を向上させることができ、チームで創造的なものづくりができるようになります。