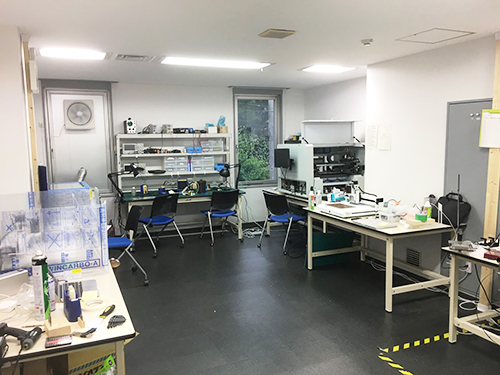 Hongo Tech Garage, hosted by The University of Tokyo, is a secret base for the students to work on their own technical projects and activities.
This geeky place provides free drinks, fast wifi, plenty of whiteboards, professional software, abundant cloud computing resources, and full of manufacturing machines including a couple of 3D printers, CNC, a big laser cutter, drills, benders, soldering irons, etc.
Not only the equipment, but also there are acceleration programs, where students can get mentoring support from successful entrepreneurs and professors. It is becoming the place for young, tech-savvy and entrepreneurial students who will lead the country's future.
本郷テックガレージは、東京大学によって運営されている、学生たちが技術的なプロジェクトや活動を行うための秘密基地です。
技術的に尖った学生たちの集まるこの場所では、フリードリンク、Wifi、ホワイトボード、クリエイター向けソフトウェア、クラウド環境、そして 3D プリンタや CNC などの様々な工作機械が提供され、学生たちのプロジェクトを支援しています。
また設備だけではなく、メンターからのサポートや起業家からアドバイスを受けられる支援プログラムも実施し、技術的なプロジェクトの社会実装の支援も行っています。
本郷テックガレージは、若く起業家精神に溢れる、技術に明るい学生が集まり、社会に貢献する一歩を踏み出す場所として現在成長しつつあります。