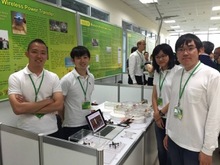 "Indoor Wireless Power Transfer" is a project aiming to eliminate every single indoor power line by using wireless power transfer, a technology studied in our research group.
We presented a demonstration at TECO Green Tech Contest 2016, an international technology contest and got the Bronze Prize.
We got many precise feedbacks from the participants, and are planning to advance our project to realize a truly wireless environment.
Asami & Kawahara Lab.,
Graduate School of Information Science and Technology.
Takuya Sasatani
read more