The 12th Class
July 08, 2013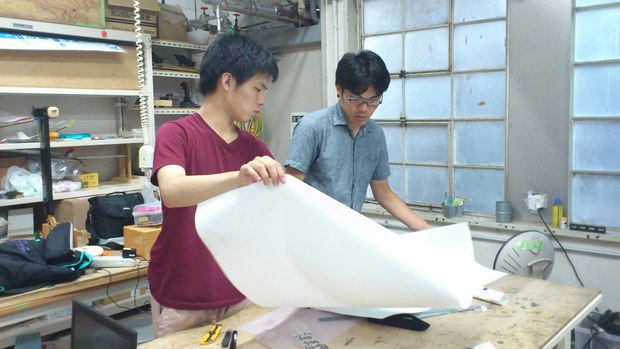 We usually hold this class on Wednesday. However, we gathered this Monday to build our model plane because we do not have enough amount of time.
First, we cut some parts of the wing, and checked how strong they are.
We designed our model plane very light because we want it to fly very slowly.
And so, some parts of the wings, such as limbs that are ones of the components of wings and hold the surface of the wings, are designed very vulnerable because these parts do not take large loads.
We cut some of the parts, checked them and got a confidence that these parts will not break when the airplane is flying because they have enough strength.
Second, we surveyed old model planes carefully and decided how to install electric devices such as a receiver or servos.
We will stick these parts by Velcros because they are easy to remove but can set parts strongly.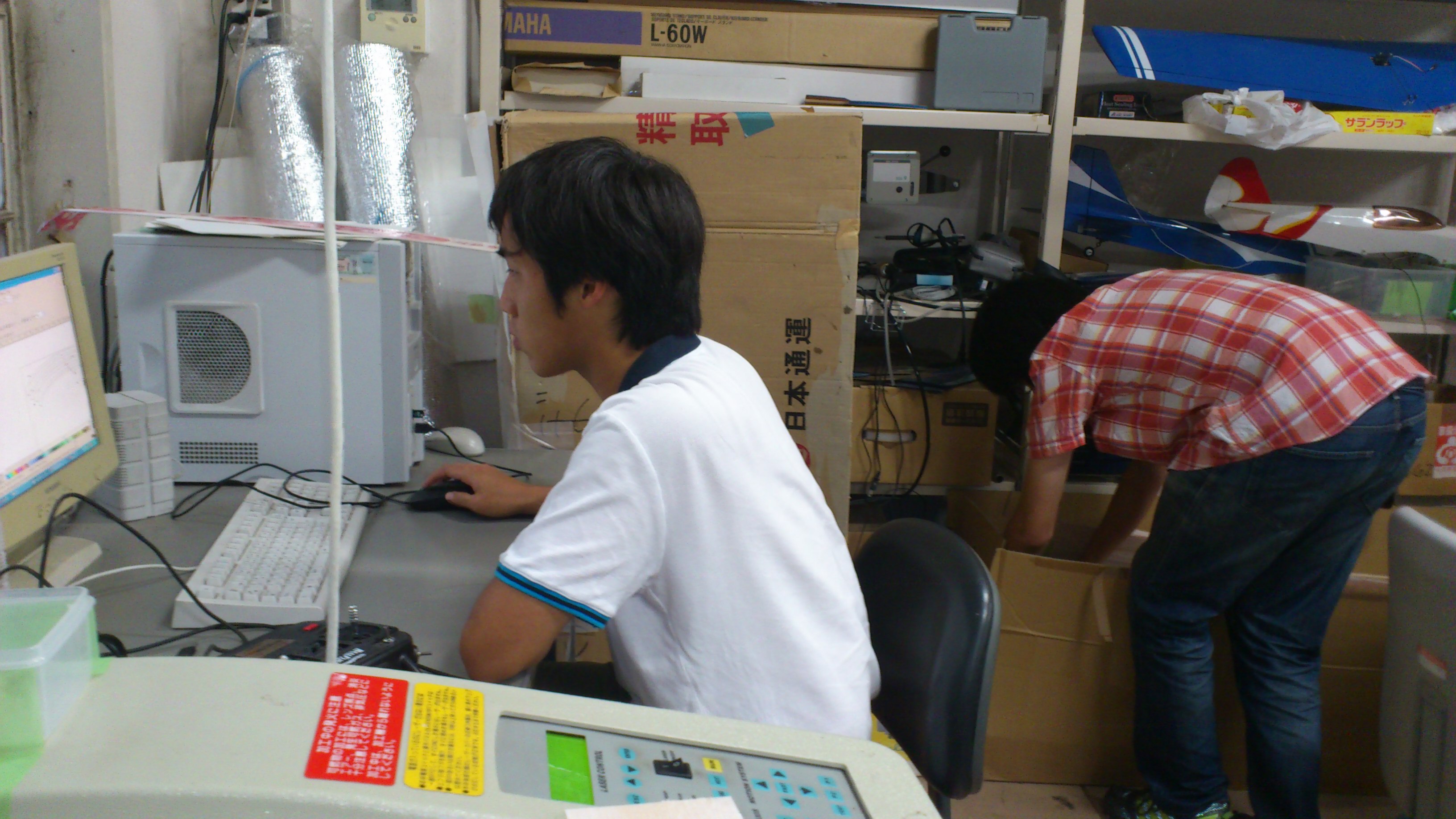 今日は月曜日ですが、制作の時間が限られてきたので皆で集まって作業することにしました。今回の目的はレーザーカッターで実際に部品を切り出し、部品の強度を確認すること及び過去の飛行ロボットプロジェクトで制作した機体を参考に電子部品の取り付け方法を確認することです。
まず、部品の切り出しについてです。今回使用したレーザーカッターは強力なレーザー光を用いて木材やプラスチックを切断する装置です。物理的な刃を用いないため切断時に部材に力がかかりません。そのため複雑な形状をした部品を正確に切り出すことが可能です。私たちの制作する機体は大型な割に重量を軽く収めるために一部部品が非常に華奢になっています。今回はリブ(翼の断面形状を支える部材)を切り出し、強度に問題がないことを確認しました。
また、実際の機体を確認することで受信機の取り付け方法、主脚の共振による振動を抑える方法などといった有用な知見を得ることができました。サーボモーターの設置するための仕組みは機体の構造に組み込まれていますが、受信機やスピードコントローラーの設置方法は決まっていませんでした。メンテナンス性を上げるため、これらはマジックテープにて固定します。 工学部航空宇宙工学科
菅原 寛生(Hirotaka Sugawara)
|