2020 Autumn Semester Flying Robot Project Team D Article 2
October 31, 2020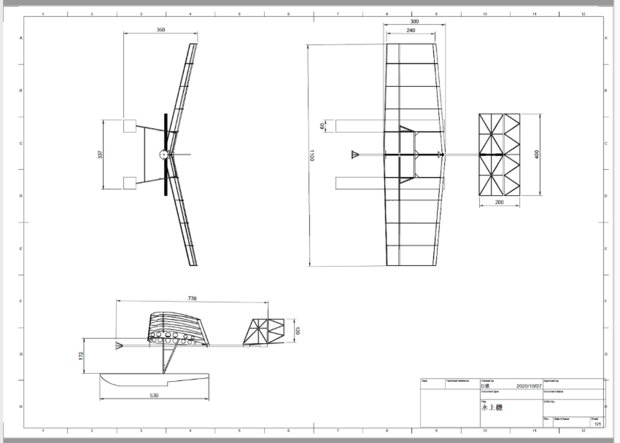 At the beginning, we modified our trihedral drawing since it was pointed that aspect ratio was too big in the last class After modifying it, we analyzed it by Xflr5. According to the analysis, a tail angle should be -3 degrees in order to stabilize the plane when it lurches ahead.
Then we discussed the structural drawing for our plane, chose the material, and planed how to make it.
Fusion360 was used for the structural drawing. When we made it, we referred to other hydroplanes, especially designing the floats. When the back of floats is cut, a plane will move on the water. Therefore, we decided the shape of the floats like this.
Carbon pipes are planned to be used for the body and main girder, balsa wood for the other parts of the winds, and EPP for the floats. Balsa wood will bend when it gets wet, so its surface is planned to be filed and covered with water repellent spray. EPP is lighter and more durable than EPS. Therefore, it will be more suitable for its floats.
We plan to make a hydroplane, so we selected for flying membranes not paper but waterproof sheet.
By the time we begin to make it, we have to decide in detail how to enable it to take off the ground and from the water and how to prevent devices from getting wet. "前回の授業でアスペクト比が大きいとの指摘を受けたので、今週は機体設計の手直しから始めました。翼を修正したほか、機体の安定のために垂直尾翼を-3で取り付けることにしました。
その後、三面図に基づき構造の決定や材料の選定を行いました。胴体や主桁はカーボンパイプ、フロートはEPPとしました。水上飛行機を想定しているため、翼などに使用するバルサ材は表面をやすりで滑らかにした上で防水加工を施す予定です。
水面からの離陸・陸上からの離陸を共に可能にするため、車輪とフロートを付け替え可能な構造にする、あるいはフロートの中に車輪を内蔵した機体を作る、などを考えていますが未だまとまっていないので早急に決めようと思います。また、電装品をどのように水から守るかについても議論中です。"
|