2019 Spring Semester Flying Robot Project Team E Article 3
May 22, 2019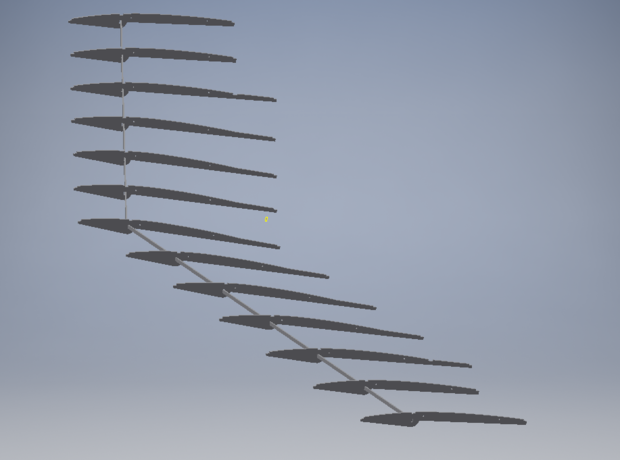 Hi, I would like to talk about team E's Progress. Our plane S.K.H.Q. has a twisted thin wing with reversing camber. Therefore S.K.H.Q. has good stability even though it has no vertical tail wing. But this is ideal (only design based) performance. Through making drawing of the wing parts, I realized S.K.H.Q. had some delicate area and that was difficult to make by hand.
I tried to balance the ideal and the reality. In this time, I constructed rib's (cross section of the wing) spars (wing longitudinal parts) mounting hole for wing twisting but it caused difficulty of mounting wing front and back edge part.
I also omitted some reverse camber.
I learned many things about wing structure from drawing of wing parts.
Picture shows S.K.H.Q.'s wing frame (ribs and spars).
Don't you think it will fly very well?
Although it is a bit uneasy, I think such trial and error is also a fun part of this course.
The drawings of the parts were closed, so next is making and test flight! こんにちは。チームEの進捗を報告します。
私たちのS.K.H.Q.はねじりを持った反転キャンバー付き薄翼によって
無尾翼機でありながらも高い安定性を持つ機体です。
ただしこれはあくまでも設計上の話です。
実際に機体を構成するパーツの図面を引くことで、
設計上のS.K.H.Qは繊細な構造が多く、
設計通りの形状を製作する事が難しい事が分かってきました。
図面担当者は理想と現実のバランスをどうとるか悩むことになります。
今回のパーツ設計ではリブ(翼の断面部分)とスパー(翼長手方向の部材)
の取り付けを工夫する事で翼のねじりを実現しやすくしましたが、
前縁部材、後縁部材の取り付けは難易度が上がっています。
また、反転キャンバーの一部は省略する形になりました。
今回、自分で翼構造を設計する事で、なんとなく知っている程度だった、
翼構造の知識が身についているのを実感しています。
(とはいってもまだまだですが)
写真は設計したリブとスパーを組み立てたものです。
結構飛びそうな感じがしませんか?
少し不安ではありますがこういった試行錯誤も
飛行ロボット製作の楽しいところだと思います。
部品の図面は引けたので、次は機体を製作して試験飛行です!!
|