2019 Spring Semester Flying Robot Project Team E Article 9
July 24, 2019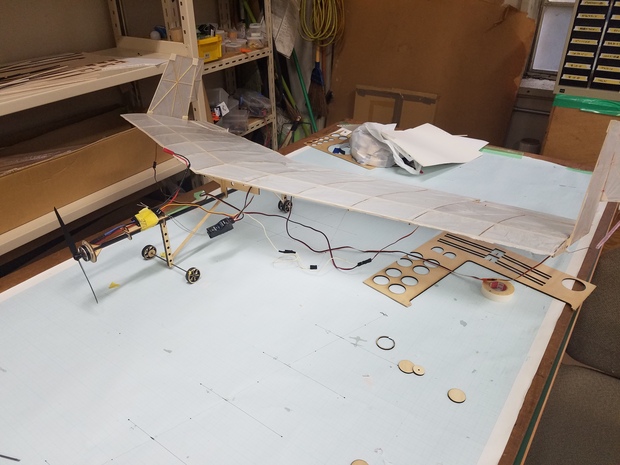 Hello, I'm K form team E.
This time we made all the parts set.
Picture shows the completed plane "SKHQ".
At taxing test, we checked SKHQ could run straight.
I was relieved because I personally made leg and wheel.
It was rainy so we couldn't do flight test, but we checked the
control surfaces.
Right and left elevon linkage moved unbalance but was easily modifiable by controller setting.
However, vertical wings rudder trouble was difficult to solve.
This trouble was rudder control was not effective because the link between servo and rudder was not good.
Reason of this trouble was that wire used for connection servo and rudder couldn't stand bending load.
Best method was set link system to protect wire from bending but we didn't design main wing with extra space,
so, this method was difficult to do.
We may change our mind and do not set rudder.
Plane can fly without rudder we know this is very extreme theory.
Anyway, next is flight test.
To tell the truth this blog was written one week later because I forgot writing
Sorry for late.
Flight test results will be show next blog!! こんちには、チームEのKです。
機体を構成するパーツが全て完成し、
組み立てました。写真がその状態です。
走行試験も行いまっすぐ走る事を確認しました。
脚の製作を担当した私としては一安心です。
今日は雨が降っていたので飛行試験は行わず。
製作作業はこれで終わりです。細かい調整として
動翼の動きを確認しました。左右エレボンの挙動の
連動がうまくとれていなかった原因はプロポ側の設定の問題で
簡単に解決できたのですが翼端垂直尾翼のラダーが不安定なのは
機械的な問題だったので解決するのは難しそうです。
具体的にはサーボとラダーのリンケージに使っているピアノ線が
曲がってしまって力の伝達がうまくいっていないのです。
正しい対策としてはリンク機構を用意してピアノ線の座屈を防ぐことでしょうが主翼構造に拡張性を持たせていなかったので実行は難しそうです。
いっそのことラダーはあきらめてしまおうかと考えています。
さて、次回はようやく飛行試験となります。
実は私がブログの作成をど忘れしていたので、このブログは
1周遅れの状態、つまりすでに飛行試験を行った状態で作成しています。
遅れてすいませんでした。
飛行試験の結果は次回のブログをお楽しみに!!
|