Special Lesson 1
July 01, 2013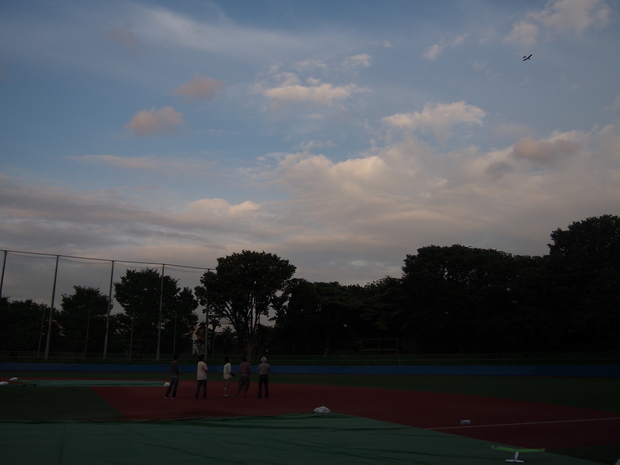 We held test flights of radio-controlled airplane which we made few weeks ago. We had two purposes for this test flight. The first purpose was to get used to controlling radio-controlled airplanes and the second aim was to realize the difference of behavior of each airplanes.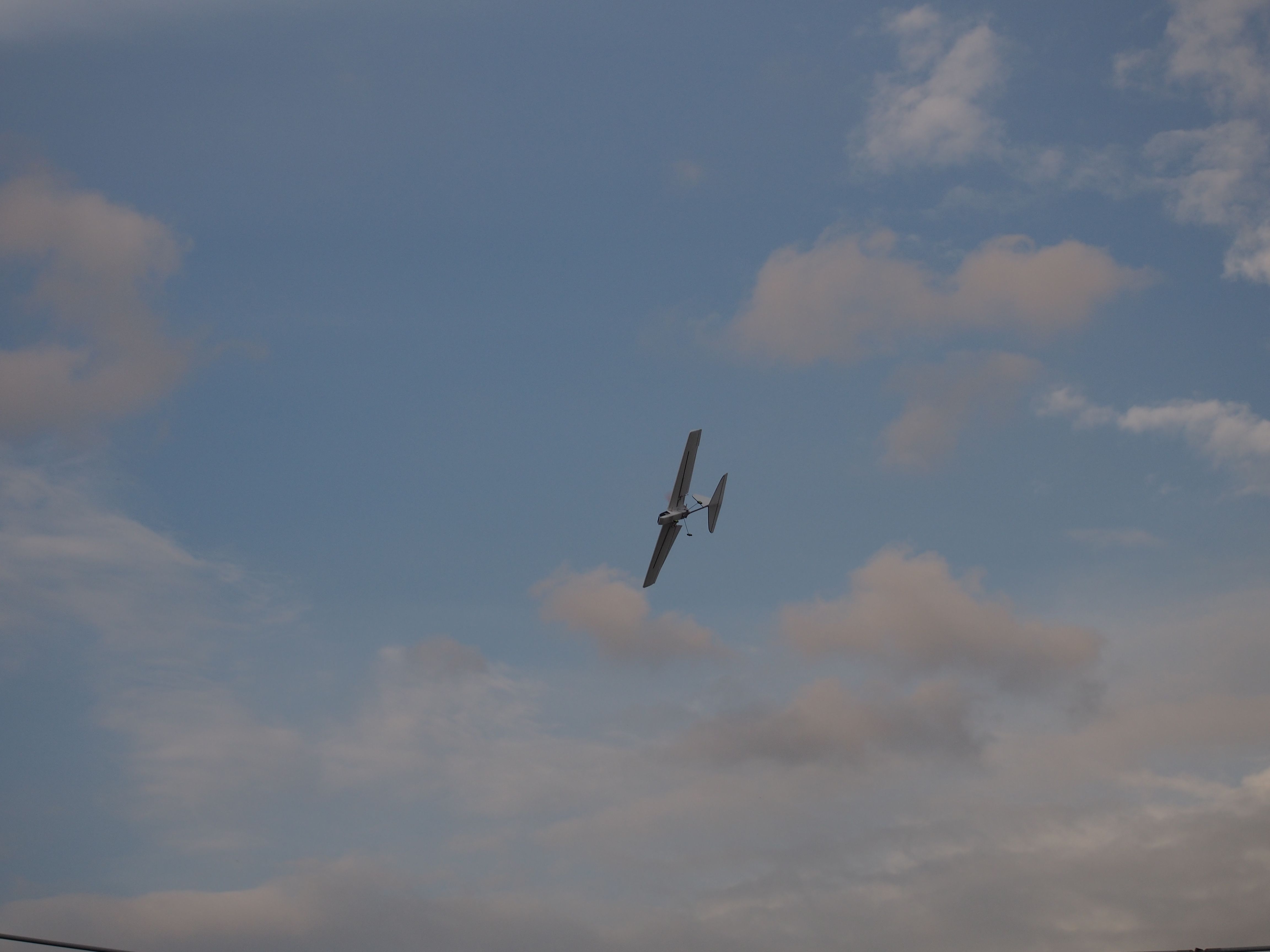 We used two airplanes. The one which was made by us was Cessna-like airplane and did not have ailerons. The other one was pusher type airplane and had a rudder, elevators, and ailerons. The first one was named 'Sky Puppy' and the second one was named 'Savanna'. 'Savanna' is much heavier than 'Sky Puppy'.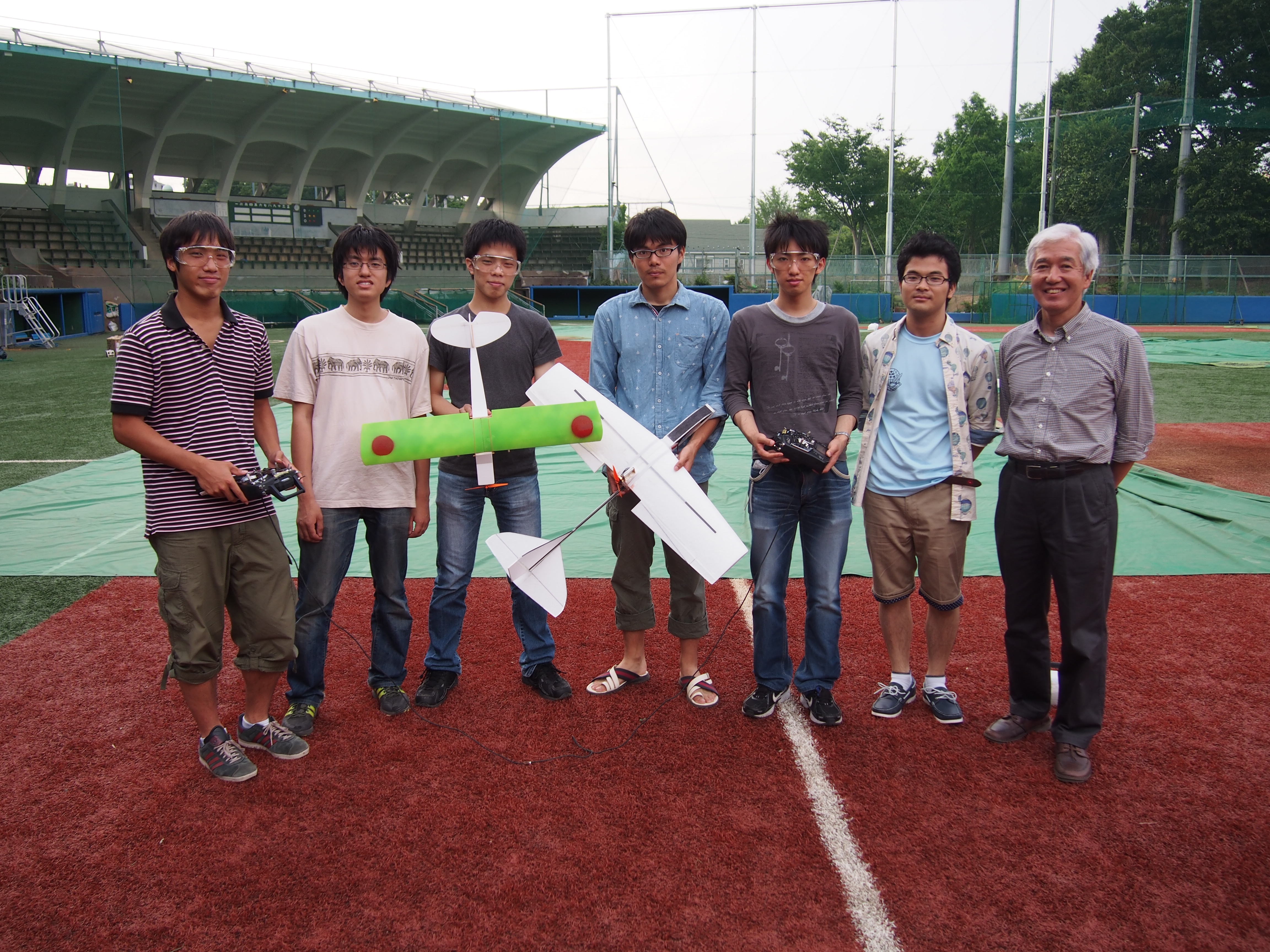 We flew them for two hours. Because of a strong dihedral angle, 'Sky Puppy' had good stability but respond speed was slow and difficult to control rolling because it does not have ailerons. 'Savanna' responded very quickly. But it was very difficult to stabilize. We tried actually flying them and could know how to control radio-controlled airplanes.
http://youtu.be/OyG6o5JmnCU

http://youtu.be/gmvIro4xCwc

http://youtu.be/-tShhm6gMcY

http://youtu.be/7LRvJU25ld8
今回は以前習作として制作したスカイパピィと、技官の方とTAの方が別に制作してくださった模型飛行機サバンナの飛行試験を農学部のグラウンドにて行いました。
スカイパピィは比較的小型の機体で、ラダー、エレベーターによって操縦する機体です。上反角が大きいため安定性は高いもののラダーを打ってからの反応が遅く、方向転換に困難をきたす場面がありました。
一方サバンナはラダーとエレベーターに加えてエルロンでロール方向の制御を行う機体です。本機はスカイパピィに比べ大型で飛行速度が早く、上反角が小さいので安定性が小く、操縦の難しい機体でした。しかし、エルロンを装備している分機体の反応性が高いというメリットはかなり大きいことも実感しました。コンテストで細かい動作が求められることを考えると、ー私たちの機体にエルロンを取り付けたことは正解であったと感じました。
今回の飛行試験を通じて機体の操縦の際に注意するべき点がわかっただけでなく、エルロン機とラダー機の特性の違いを実感することができました。
工学部航空宇宙工学科
菅原 寛生(Hirotaka Sugawara)
|