Second Kofu Higashi High School Program
March 11, 2014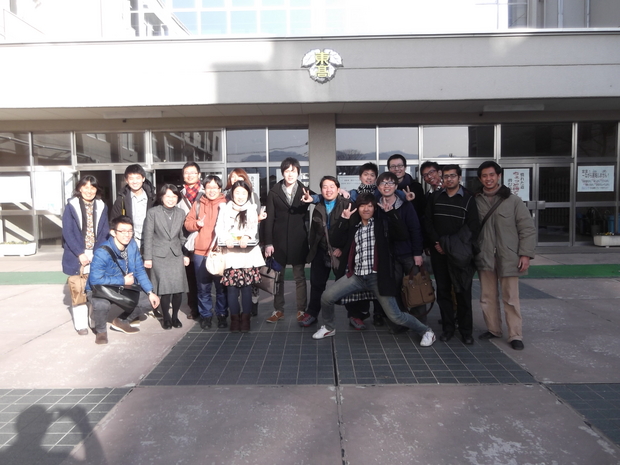 The second visit to Yamanashi Prefectural Kofu Higashi High School startet 6:45 a.m. at the main gate of Hongo Campus on a vey chilly morning. 13 international students, two Japanese student and a School ofEngineering staff got in the bus chartered by Boeing Co. Ltd. Compared last year, almost three times as many international students participated in this program upon the request of the high school side.

We were greeted by Mr. Masaki Nagata, school principal, and many academic staff. Through the sessions, both the international students and high school students enjoyed academic and cultural exchange in a friendly atmosphere. We left high school, expecting their visit to Hongo Campus, UTokyo next time.
The detailed schedule is as follows:

Date : March 11, Tuesday, 2014
Departing campus: 07:00 Returning :19:00 (round trip by chartered bus)
Destination: Yamanashi Prefectural Kofu Higashi High School
Students' nationalities:China, Korea, Taiwan, Indonesia, Mongolia, Philippines, Pakistan,Malysia,

Activities at high school;
1) Discussion and exchange ideas based on students' slides/posters in each session
Session 1 10:50-11:45 Lunch time 12:50-13:50
Session 2 11:55-12:50 Session 3 13:50-14:45
2) Each team consist of one international student and high school students
3) English is used in the sessions.
4) International students have lunch with high school students in the classrooms and experience classroom cleaning with them.

International students assingment
1) 4 PPT slides (at least) about their countrie and/or cities
2) 4 PPT slides (at least) about their research/academic life on campus
3) Report on their program in English, mother language and if possible, in Japanese

Please enjoy reports by the international participants. Yoshiko Yamazaki
Institue for International Innovation in Engineering Education

昨年に続き、工学部・工学系研究科所属の留学生が山梨県立甲府東高校を訪問し、高校生と交流しました。
国際工学教育推進機構グローバルキャンパス推進センターでは、多様な文化的背景を持つ留学生が日本の高校生との交流を通じて、世代を超えたコミュニケーションの意義を意識し、先輩・ファシリテーターとしての役割を自覚し、日本文化、地域文化に触れ、高校生活の一端を経験する機会を提供する目的で2013年3月に第1回甲府東高校訪問を実施しました。
第2回は2014年3月11日(火)に行われ、留学生13名(中国6、韓国1、台湾1、マレーシア1、フィリピン1、インドネシア1、パキスタン1、モンゴル1)、日本人学生2名、職員1名がボーイング社のチャーターによるバスで山梨県立甲府東高校を訪問しました。高校では校長先生方に温かく迎えられ、充実した一日を過ごしました。
当日のスケジュールです。
出発     :2014年3月11日(火)7:00(本郷キャンパス)
授業     :午前(10:50-11:45, 11:55-12:50) 午後(13:50-14:45)
        昼食は高校生達と一緒に教室で食事
帰着     :19:00(本郷キャンパス)

授業では各留学生が10名から15名の高校生とグループを作り、それぞれのグループで交流を楽しみました。留学生は母国や専門分野を英語で紹介するとともに、ファシリテーターとしてグループ内での英語によるコミュニケーションがスムーズに行われるように努めました。
高校生は各自この日のために用意した英文ポスターで山梨地方の食べ物、歴史、習慣、観光地など地域文化や日本の武道、アニメ、J-ポップなどを紹介しました。
留学生は授業だけではなく、高校生と一緒にお弁当を食べ、放課後の教室を掃除して、日本の高校生活の一端を体験することができました。


留学生の報告書には日本の高校を初めて訪問し、日本のこと、山梨のことを多く学んだこと、高校生と多くの体験を共有したこと、母国を高校生に紹介できた喜びが書かれています。 
東京大学工学部・工学系研究科 国際工学教育推進機構 
山﨑佳子
|