2014 Visiting Kofu Higashi High School Report 13
March 11, 2014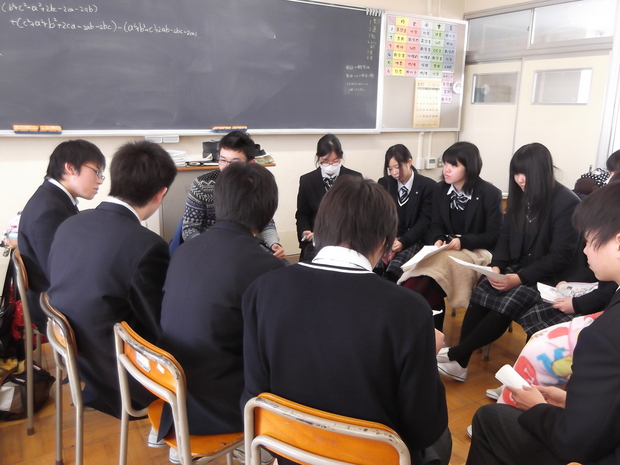 We met at 6:45 morning and left to Kofu by bus at 7:00. The bus was very spacious and comfortable. View from highway was beautiful, especially the mountains. We arrived at the Kofu Higashi High School around 10:00. The school principal and staffs welcomed us warmly and treated us with delicious Japanese-style confectioneries.

 I had three discussion sessions with the students, two before lunch and one after lunch. On each session first I introduced myself and gave the students brief introduction about my country and my university life. When I was presenting, they listened very attentively. After my presentation every student talked about one aspect of Japanese culture. I was very impressed with their preparation, they had written about their topic very well and some students even had drawn beautiful pictures for my ease of understanding. Despite living in Japan for four years, I learned many new things about Japanese culture from their presentations. After the presentations we discussed about many things, including Mongolia and Japanese Culture. Although being very anxious about their English, students asked me many questions about Mongolia.

 Experiencing Japanese high school students' life was one of the intentions of the visit. As a part of this we had lunch with the students in their classroom. Also we did classroom cleaning together. During the lunch and the cleaning we talked about many interesting topics, which we couldn't talked during class hour.

 In conclusion, I would like to say how much I have enjoyed myself during the visit. I highly recommend this program to the other foreign students at the University of Tokyo.

My proposals to the program:
• The students were very eager to know about Mongolia. However because of anxiety about their English, some students couldn't asked the questions they wanted to ask. Therefore I propose telling who they will meet beforehand. So they can prepare their questions in advance.
• I suggest limiting students' number in one group. There were around 15 students in the first two groups I met. Therefore the time was well divided between presentation section and discussion section. But in the last group there were around 30 students. So almost all time was spent for presentations, and we had very little time for discussion after that. In my opinion, the ideal number of students in one group is between 12 and 15.
• Despite had written very well, the students were very shy when presenting their writings about Japanese culture. In my opinion, to make their effort in the writings more effective, it is important to make them rehearse. Of course rehearsing with teachers is best, but I also think rehearsing on their own as homework is good if rehearsing with teachers in classroom is not possible.
 Өглөөний 6:45-д уулзаж 7:00 цагт Кофү xотийн зүгт хөдөлснөөр бидний аялал эхэлсэн. Бидний зорчсон автобус маш тохилог, тухтай, замд цонхоор харагдах өндөр уулс үнэхээр үзэсгэлэнтэй байв. Сургууль дээр очиход сургуулийн захирал, ажилчид биднийг маш халуун дотноор хүлээн авч, Япон амттанаар дайлав.

 Би сурагчдад гурван цагийн хичээл орсон. Үүний хоёр нь үдээс өмнө, нэг нь үдээс хойшоо байсан. Хичээл бүрийн эхэнд би Монгол болон өөрийн их сургууль дахь амьдралын тухай товч танилцуулга хийв. Япон сурагчид миний яриаг маш анхааралтайгаар сонсож байсан нь үнэхээр баярлууштай байв.

 Миний ярианы дараа сурагч бур өмнө нь бэлдсэнээрээ Японий соёлын тухай нэг сэдвийн дагуу яриа хийв. Сурагчид яриагаа үнэхээр сайн бэлдсэн байлаа. Зарим нь бүр надад сайн ойлгуулахын тулд гоёмсог зураг зурж бэлдсэн байв. Японд ирээд бүхэл бутэн 4 жил болж байгаа надад ч энэ өдрийн сурагчдийн ярианаас шинээр мэдсэн зүйл их байлаа. Бүгд өөрсдийн бэлдсэн яриагаа дуусгасаний дараа бид Монгол болон Японы соёлын талаар зөндөө зүйлсийг ярив. Англи хэлэндээ санаа зовоод хэцүү байх шиг байсан ч гэсэн сурагчид надаас Монголын талаар багагүй юм асуув.

 Японы ахлах сургуулийн сурагчдын амьдралтай танилцах нь энэ өдрийн аялалийн бас нэгээхэн хэсэг байсан юм. Үүнийгээ ч дагаад бид сурагчидтай хамт ангид нь өдрийн хоол идэж, анги цэвэрлэгээг нь ч мөн адил хамт хийлээ. Энэ үеэр бид хичээлийн цагаар яриж амжаагүй нэлээд хэдэн юмны талаар мөн яриад амжив.

 Дүгнэж хэлэхэд энэ аялал үнэхээр үлдэх юм ихтэй сайхан болж өнгөрчээ. Токиогийн их сургуулийн бусад гадаад оюутнууддаа мөн адил энэ аялалд явж үзэхийг санал болгож байна.

Хөтөлбөрт нэмэрлэх санал
• Сурагчид Монголын тухай мэдэх эрмэлзлэл маш өндөртэй байсан. Гэвч зарим сурагчид өөрсдийн Англи хэлэндээ зовсондоо хүссэн асуултаа асууж чадахгүй өнгөрөх шиг болсон. Иймээс тэдэнд хаанаас ирсэн, хэнтэй уулзахыг нь урьдчилан хэлэхийг санал болгож байна. Тэгвэл тэд өмнө нь асуултаа бэлдээд, эмээлгүйгээр асууж чаддаг болчихсон байна.
• Миний эхэлж орсон хичээл тус бүр ойролцоогоор 15 хүүхэдтэй байсан. Ийм байхад бэлдсэн яригаа хийx болон асуулт хариулт хийх цагийг сайн хувиарлаж болж байсан. Гэвч миний сүүлд орсон анги 30 орчим хүүхэдтэй байсан тул асуулт хариултын цаг бараг гараагүй.Тиймээс нэг бүлгийн хүүхдийн тоог 12-15 болгож хязгаарласан нь илүү үр дүнтэй гэж бодож байна.
• Сурагчид Японы талаарх ярианыхаа агуулгыг сайн бэлдсэн мөртлөө ярихдаа маш их сандарч байсан. Тиймээс яриаг нь өмнө нь яриулж бэлдүүлсэн нь тэдний яриагаа бэлдэхдээ гаргасан хичээл зүтгэлийг илүү үр дүнтэй болгох болов уу гэж бодогдож байна.

Department of Electrical Engineering(工学部電気電子学科)
Namsraijav Byambajav
|