2013 Visiting Kofu Higashi High School Report 3
March 19, 2013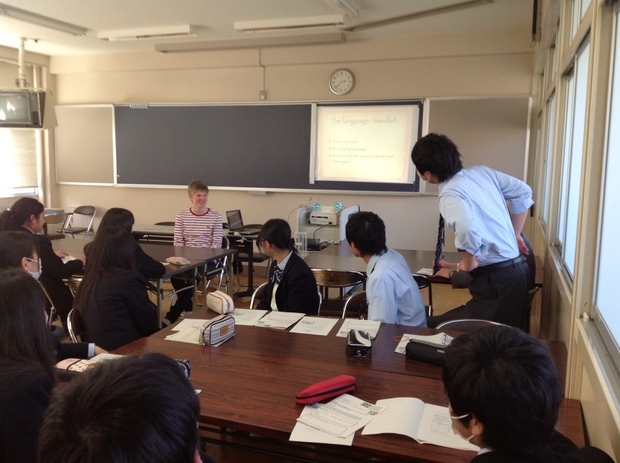 Three month ago, me and three other friends from Tokyo University got the opportunity to visit a Japanese high school in yamanashi prefecture. The School is called Kofu Higashi high school and is located 1-2 hours by train from Tokyo. Each of us was to present ourselves and our country. We were two from Sweden, one from Greek and one from France. My job was to introduce Sweden and my life in Sweden in English to the students. Since there are a lot of students in that school, each of us had to do the presentation to four different groups that day. So basically, we did the same presentation four times that day, which was a bit tiring. I talked about Linköping University, cities in Sweden, nature in Sweden and so on. I had never really talked to a Japanese high school student in English before so I wasn't sure how fast I could talk or what kind of vocabulary I could use so they would understand. Now that I think about it, I don't think they understood at all. Although, I had a power point so I think (or I hope) they got at least an Idea of what kind of country Sweden is.

Since I used to live in Japan, I know Japanese, but the students didn't know that. So before/during the presentation, I could hear the students talking about me and one of them compared me with Wally in "Finding Wally" (the guy below). I think it was an interesting comparison but this was because during that day, I wore a red and white striped shirt and a par of blue jeans. I didn't reveal my Japanese level until at the end of the presentation and so when I started talking in Japanese, the student burst in to laughs.

In general, it was a fun experience and if I could do it again, I would probably do it. It wouldn't hurt if the students knew a bit more English, though.
工学部物理工学科4年
Forslund Ola Kenji
|